dj jonny moirée hops on the mashed-up bangwagon, and brings you a hearty meal of mashed bangers—the best banging tracks, all mashed up in jonny's big beats blender. chunky electro with sweaty r'n'b, slick synthpop with punky pop. mashed bangers pulverizes jonny's previous popstarz manic mix hands down—47 songs from 45 different artists crammed into 21 tracks spanning 76 minutes. can you handle it?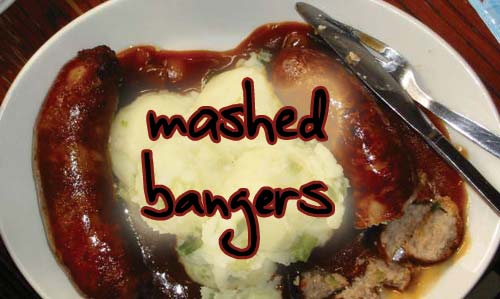 Go Toxic [Yaz vs Britney]
Rockafeller Rock Shack [B-52's vs Felix Da Housecat vs Fatboy Slim]
Smells Like Emerge [Fischervana]
Heartbreaker Music [Glitterati vs Madonna vs KLF vs Bowie]
Pure Love Energy [Information Society vs Benny Benassi]
Girl Wants (to say goodbye to) Rock and Roll [Christina Aguilera vs Velvet Underground vs Communards]
Spin Me Harder [Daft Punk vs Dead or Alive]
Glamorous Trick [Kelis vs Shelia E]
Can't Get You to Shut Up [Black Eyed Peas vs Kylie]
Justin's 17 Scene [Justin Timberlake vs Ladytron and Felix Da Housecat]
Feelin' Lola Good [Shapeshifters vs No Doubt]
Seven CeCe Army [Ce Ce Peniston vs White Stripes]
Power Slut Kiss [Har Mar Superstar vs Prince vs Avenue D]
Don't You Want Me Slow [Human League vs Kylie]
Eple Off Your Shoulder [Jay-Z vs Royksopp]
DJ Rock Your Buffalo Body [Justin Timberlake vs Neneh Cherry]
David Byrne Was Born in Dumbarton [Talking Heads vs Franz Ferdinand]
Laura, Honey... [Moby vs Scissor Sisters]
Dirrty Kiss [Holly Valance vs Christina Aguilera]
I Don't Wanna Shout [Mario Winans vs Missy Elliott vs Tears for Fears]
S Clubbed to Death [S Club 7 vs Rob Dougan]
props to all of the original mashup bootleggers, including idc, dj tripp, go home productions, mcsleazy, popbastard and the rest!