dj jonny moirée \ london leavin', california dreamin'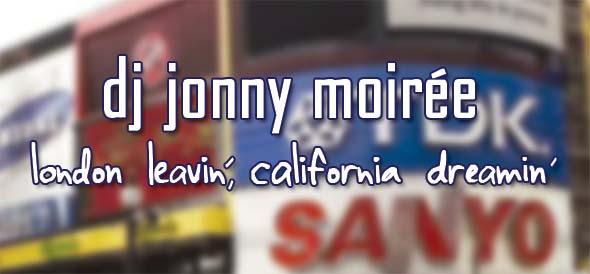 eric loves london. eric adores london. eric is aroused by london. with mixed emotions, eric bids farewell to london in june 2005, climaxing with a huge boat party, with jonny moirée in the mix, providing the perfect auditory backdrop for a blissful summer evening shindig.

four 80-minute mixes, exemplifying and encapsulating the emotions, experiences, expectations of eric as hs says goodbye to chapter 6 of his life and begins chapter 7. the discs progress from summery background diddies, to salsa phunk, through pop giddiness culminating in funky house mayhem... all with a subtle [or not-so-subtle] nod to california, and with encoded farewell messages and inside jokes throughout. starts out chilled, finishes fully bar-be-qued.

after downloading, just unzip to get the continuous-mix mp3.

london leavin', california dreamin'
—disc one—
classics, soul, phunk [the party starter]



london leavin', california dreamin'
—disc two—
cocktails clink [somebody salsa]



california—phantom planet
beverly hills—weezer
everybody's changing—keane
california dreamin'—queen latifah
sunshine—keane
hey ya [live at the jo whiley lounge]—will young
mr. bojangles—aretha franklin, peggy lee, nina simone
me and julio down by the schoolyard—paul simon
it never rains in southern california—albert hammond
the promise—when in rome
four to the floor [thin white duke mix]—starsailor
sunday session [vocal mix]—weekender feat. zoe johnston
avalon [thin white duke mix]—juliet
don't phunk with my heart [ron mazyl mix]—black eyed peas
ride like the wind [2001]—christopher cross
freek u [full intention dub]—bon garcon
ode to l.a.—the raveonettes
back to california—sugarcult
hounds of love—the futureheads

go gone [eb get down mix]—estelle
one—johnny cash
tonight—easyworld
going back to cali—notorious b.i.g.
one thing—amerie
miss california—max raabe
oops i did it again—max raabe
california love [fastlove mix]—tupac feat. dr. dre
breathe on me [jacques lu cont mix]—britney spears
el ritmo de verdad—david guetta
lose my breath [maurice's nu soul mix]—destiny's child
squire for hire—nathan haines feat. marlena shaw
belmondo rules—dr. kucho feat. jodie
coraçao—jerry ropero & denis the menace presents sabor feat. jaqueline
sunset strip—courtney love
smalltown boy—bronski beat
hey now now—the cloud room
d'yer mak'er—led zeppelin

london leavin', california dreamin'
—disc three—
beat connection [always in the kitchen]



london leavin', california dreamin'
—disc four—
rock the boat [we're in vauxhall]



bang bang [extended version]—audio bullys feat. nancy sinatra
nasty girl—inaya day
you won't forget about me—danii minogue vs. flower power
hollywood [jacques lu cont mix]—madonna
halfway around the world—a teens
free [remix]—corso & dominguez feat. ultra naté
one word [chris cox club mix]—kelly osbourne
for you—the disco boys
don't phunk with my heart [dj cera mix]—black eyed peas
beat connection—lcd soundsystem
take me out [dirty snare mix]—franz ferdinand vs. clayton derricks
high again—thomas falcon
what you waiting for [jacques lu cont mix]—gwen stefani
stay—david guetta feat. chris willis
girls just wanna have fun [extended vocal mix]—glamarama
this love [junior vasquez mix]—maroon 5
don't leave me this way—thelma houston
angel—max raabe & palast orchester

tipsy [funky mix]—j-kwon
hollaback girl [rw remix]—gwen stefani feat. fat joe, busta rhumes & chingy
chewing gum [headman vocal remix]—annie
kinda new milkshake [klash-e mashup mix]—kelis vs. spektrum vs. tiefschwarz
disco infiltrator—lcd soundsystem
the promise [tony moran mix]—when in rome
since u been gone [jason nevins mix]—kelly clarkson
dancin' [i got the pills]—erick morillo, harry romero and josé nunez feat. jessica eve
thanks dm [personal jesus]—anaklein
somebody told me [josh harris mix]—the killers
feel good inc—gorillaz
california [club mix]—phantom planet
stand by me [dirty south mix]—mr. timothy feat. inaya day
song for the lonely [thunderpuss mix]—cher
today of all days—bis
if you leave—nada surf