for the 2005 holidaze i created a limited-edition 2-mix compilation entitled ice melts. each mix is an atmospheric, emotive journey to the heights of love or the depths of loneliness. the limited-edition discs have all been pritned, packaged and mailed around the globe. for those of you not lucky enough to receive the discs, they're available below for download.

this is not another ibiza chillout compilation, nor is it housey house dancey dance hits. nor is it all blue skies and soulful divas and songs about california. with the good comes the bad, of course, and these two mixes encapsulate the precious balance of life, of love, of seasons.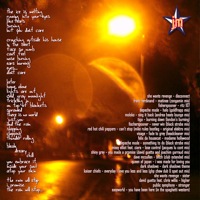 above, you'll see the stories and tracklistings for each of the two mixes. the first [ice melts cold] is cold—bitterly cold. empty. black. bleak. angry. depressed. just like my soul. i joke, i joke [as if i had a soul, please!] we sometimes need a good cry, an unhealthy unreciprocated obsession, an angry broken heart.

a bit of pain is better than not feeling at all.

enjoy this mix with the lights out, the windows open, in an uncomfortable chair. loud. or walking in the winter sleet.

after jonny tears you down, he builds you right back up. the second mix [ice melts hot] is a warm summer breeze which hugs you and envelops you and is fluffy smiles and gentle sunshine and flowers dancing and birds chirping and pure contentment. it's love, pure and plain and beamed straight into your core. enjoy it as background music at your next fête, or do as jonny does and crank it out of your car stereo with all the windows down.

waves crashing, sun baking, flirtatious breeze carrying away life.

i hope this warms your winter, and i wish you all the best in the coming year...


ice melts cold

she wants revenge - disconnect
franz ferdinand - matinee [zongamin mix]
fisherspooner - ritz 107
depeche mode - halo [goldfrapp mix]
moloko - sing it back [andrea beats lounge mix]
tiga - burning down [london's burning]
fischerspooner - never win [black strobe mix]
red hot chili peppers - can't stop [mike rules bootleg - original elektro mix]
visage - fade to grey [headcleaner mix]
felix da housecat - madame hollywood
depeche mode - something to do [black strobe mix]
missy elliot feat. ciara - lose control [jacques lu cont mix]
shiny grey - you made a promise [david guetta and joachim garraud mix]
dave mccullen - bitch [club extended mix]
queen of japan - i was made for loving you
dark shadows - dark shadows theme
kaiser chiefs - everyday i love you less and less [ghp chew dub & spat out mix]
she wants revenge - sister
david guetta feat. chris willis - higher
public symphony - stronger
easyworld - you have been here [in the spaghetti western]

ice melts hot

nouvelle vague - love will tear us apart
the avalanches - since i left you [cornelius remix]
buena vista social club - chan chan
diana krall - dream a little dream of me
carl bean - i was born this way
bob sinclair - love generation
solarys - let the sunshine in
afro medusa - pasilda
joey negro - make a move on me
vengaboys - to brazil! [xxl]
princessita - princessita
poker pets feat. nate james - lovin' you [raul rincon mix]
kylie - red blooded woman [narcotic thrust mix]
axwell feat. steve edwards - watch the sunrise [instrumental mix]
bob marley - sun is shining
shapeshifters - lola's theme [mike rules meilenstein lounge break mix]
frente! - bizarre love triangle
die fantastischen vier - tag am meer
camille yarbrough - take yo praise