dj jonny moirée \ dusk to dawn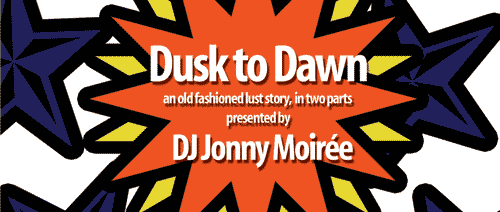 for christmas 2004, jonny has put together dusk to dawn—a lust story in two parts. a limited-edition 2-disc mix given as gifts to a handful of friends. these 80-minute mixes take you on a hedonistic friday-night journey across london clubland, exploring several parallel concepts...

the end of a relationship... those final days when it all comes to a crashing halt, followed by the beginning of a new romance, filled with excitement and electricity
the end of the year, the end of a horrible year for some of us, and the beginning of the next chapter, a fresh start, a new outlook
and [obviously] clubbing until the sun comes up... dancing, flirting, smiling and then dancing some more—well past sunrise, as the music keeps booming and your wicked friends bounce by your side.
the mixes feature funky vocal house, deep afterhours grooves and uplifting trance anthems from 2004 and yesteryear, an exclusive depeche mode-flavored edit of eric prydz's anthem call on me, and a twisted lust story, narrated by innocent ole jonny moirée himself.

you can choose to download either the original mix [with narration] or the music-only mix [without narration] below. after downloading, just unzip to get the continuous-mix mp3.
Dusk
...the beginning of the end, the darkness descends...

Dawn
...you've got your friends, the sun shines again...


The Weekend [Mano vs Mantroniks]—Michael Gray
Body Swerve [Vocal Mix]—M-Gee feat Mica Paris
The Energy [BMR Club Mix]—Astrotrax
Feel The Funk [Voice Mix]—Eddie Amador
Put 'em High [Junior Jack Mix]—Stonebridge feat Therese
Pump it Up [DJ Sam'z Percumix]—Danzel
My My My [Promo Mix]—Armand Van Helden
To The Club [Mr. Slide Mix]—Spankox
Push Up [DJ Bomba & J Paolo Mix]—Freestylers
Call on Me [Jonny Moirée JCGE Mix]—Eric Prydz
House Music [Deep Dish Body & Soul Mix]—Eddie Amador
3am [White Label]—Bobby Blanco and Miki Moto
Flashdance—Deep Dish
Rise [New York Preacher Mix]—Eddie Amador
Strings of Life [Plank 15 Remix]—Rhythm is Rhythm
Good Luck [Summer Bootleg]—Basement Jaxx
Dusk Till Dawn [Shapeshifters Radio Mix]—Danny Howells & Dick Trevor feat Erire

The Sun Is Shining [Darren Tate Remix]—DT8 Project
Sunrise [Jason Nevins Club Mix]—Duran Duran
Touch it [Lee Cabrera Mix]—Holly James
Fly Again [Junior Vasquez Mix]—Kristine W
Take My Hand [Darren Tate vs Dave London]—Jurgen Vries
The Way You Make Me Feel [Pez Tellet Mix]—City Centre
Look at me now [Extended Mix]—Jessy
Sweet Child of Mine [Cheeky Trax Mix]—DJ Milano
Girls [Rex the Dog Mix]—The Prodigy
Ticket 2 Ride—Syke 'n' Sugars
Work It [Dark Beat Mix]—Oscar G & Missy Elliot
Je Suis Music [Club Mix]—Armand Van Helden by Cerrone
Woz Not Woz—Eric Prydz and Steve Angello
Stupidisco [Hott 22 Mix]—Junior Jack
Just Can't Get Enough [Instrumental Mix] vs Diamond Life [Acapella]—Shapeshifters
Lola's Theme vs Hella Good—Shapeshifters & No Doubt
And the story...

DUSK
1. The Weekend [Michael Gray] Well spank me, the weekend is here. Finally. But do I have to enjoy this fucking song? Ah, whatever, it's Friday night, gotta meet up with my boy. He hasn't called yet, but I know he will. 2. Body Swerve [M-Gee] Lift me up, bring me down. Everyone's gonna be out tonight. I love it when she says YES. I love it when anyone says YES. Time to start getting ready... look at the time, look at the time... 3. The Energy [Astrotrax] You just gotta love this choon. Takes me back to the Coconut Teaser in LA, to The Endup in SF. I'm getting a bad vibe about tonight. 4. Feel The Funk [Eddie Amador] Walking to the tube, MP3 player blasting. It's a bit misty out tonight, and everyone seems to be bouncing to my tunes, nice. A dance routine down Kennington Lane? Even better. 5. Put 'em High [Stonebridge] Well, we've just met up, and we're already back to the same old drama. "Baby, just let me be me," those were the words you gave me. I don't care where you've been before. Make the best of it, just a little bit. 6. Pump it Up [Danzel] 2 double vodka and cokes, please? Tenner in hand, I glance around and see the club is packed. Who's that I see out of the corner of my eye? Mmm… tasty. No no no, that's wrong. Oh, what? Yeah, here, cheers. Thanks. 7. My My My [Armand Van Helden] Push onto the dancefloor, looking for him. I spill his drink so I slam mine back. Then I spot him, up against the wall, "chatting" with some other boy. How'd we ever get this way? Where's it gonna go? 8. To The Club [Spankox] We've been practically living in nightclubs. What happened to the candlelit dinners, the chats over coffee, the takeaway and DVDs at home? It's not the club's fault. 9. Push Up [Freestylers] Fuck it. Let him have his snog. I'm off to dance. Time for him to play "hunt the Jonny". 10. Call on Me/JCGE [Eric Prydz] My mates keep calling me, making sure I'm all right. They think I should leave him. But I just can't get enough. 11. House Music [Eddie Amador] He's spotted me. But he's not coming over. Fucking games, I hate these fucking games. My ego can't take it. Shame on me, though… I play them too. Gotta get away from this situation. 12. 3am [Bobby Blanco] Coming out of the toilets, I bump into him. With that minger. He smirks at me, drags him into a cubicle and the door slams shut. The all-knowing toilet attendant gives me a lollipop, telling me "the night is young, my friend, the night is young." It's 3 o'clock in the morning, and he's right. 13. Flashdance [Deep Dish] Fuck him, I'm leaving. He doesn't mean a thing to me, just another pretty face to see. I should never let him next to me. Where's my cloakroom ticket? He's the kind of guy who thinks he's smart, he's the type that always looks the part. 14. Rise [Eddie Amador] He passed me while I was queuing for my coat, rolled his eyes, shook his head and kept on walking. I'm above him, above this bullshit, and he's not ruining my night. 15. Strings of Life [Rhythm is Rhythm] Cue the exit music. All eyes are on me as I stroll out at an incredibly early time... it's barely half four. Fresh air slams me awake, and I pass the queue of punters waiting to get in, and stumble into a minicab minicab minicab. 16. Good Luck [Basement Jaxx] Whatever, Big Brovah. You're so totally deluded, you'll end up old a lonely. Good luck in your new life, jerk. 17. Dusk Till Dawn [Danny Howells & Dick Trevor] Around Big Ben, past the London Eye. The murky Thames starts to glisten from black to brown. Dusk till dawn, after darkness comes light. One chapter ends as another hopefully begins. That wanker.

DAWN
1. The Sun Is Shining [DT8 Project] Pulling up to the club, a smile creeps across my face. Inside, I know that my boys will be waiting for me, cocktail at the ready. 2. Sunrise [Duran Duran] Through the double doors and whooooosh, I'm confronted with hundreds of gurning smiling faces. All at once, my gaggle of friends bounce across the dancefloor and tackle me with a group hug. They force my hands in the air and I can't help but laugh. 3. Touch it [Holly James] He keeps ringing me, and it's pissing me off. I pick up, "Do you really wanna fuck with me tonight?" I don't think so. Leave me the fuck alone. I switch off my mobile. 4. Fly Again [Kristine W] He's a bastard. I always fall for the bastards. The only thing you wanted is to hunt and not be hunted. Not to have, not to hold—running hot burning cold. 5. Take My Hand [Jurgen Vries] I make the mistake of listening to his voicemails. Lies. More lies. Sweet talk and lies. My mates confiscate my phone, and tell me I'm much better off on my own. 6. The Way You Make Me Feel [City Centre] We bounce into the next room, and I'm bobbing—my head floating above and sinking below the waves of lazzzers. Early morning euphoria hits the crowd, and the music pumps a little. bit. faster. 7. Look at me now [Jessy] Feeling better, much better, thanks. It took me so long for me to see how demolishing he was to me. I've tried so hard to keep myself sheltered from his kind of men. The door is shut, and I'm moving on. 8. Sweet Child of Mine [DJ Milano] Trashy trashy trashy tune. What? Yeah, more like Guns 'n' Posers. Hah. Spinning around, hands in the air, hold up—who dat? He's got eyes of the bluest skies as if they thought of rain. His hair reminds me of a warm safe place, where as a child I'd hide and pray for the thunder and the rain to quietly pass me by. I'm smitten again, already? Can't be. Naw naw naw I need to be alone, right, I need to remember myself, my career, my quest for fame, infamy, stardom... 9. Girls [The Prodigy] ...just imagine how it would be, to be at the top making cash money Go and tour all around the world, DJing at packed clubs, yeah, I like the sound of that. No more forlorn romances—it's all about me, DJ Jonny Moirée. 10. Ticket 2 Ride [Syke 'n' Sugars] Queuing again for the cubicles. Sweat raining down from the ceiling, mirrors impossibly fogged. The musclemarys, the twinks, the freaks, the random Gatecrasher girls, the monged scally lads, and, well, me. All of us queuing politely, for whatever decadence lies behind each flimsy cubicle door. This club is out of control. 11. Work It/Dark Beat [Missy Elliot/Oscar G] Many gay men pretend to be large black divas, but Missy's the only large black diva I know that pretends to be a gay man. Scally lad comes over, give me a "what's up?" nod. I ignore him, dismiss him, actually, but he starts strutting in front of me nonetheless. "I'm not a prostitute, but I can give you what you want." Interesting. "Do you like the way I go bumpadumpadumpdump?". He inches his trackies down. This courtship ritual is fascinating. "Let's get drunk, it'll bring us closer." 12. Je Suis Music [Armand Van Helden] My friends watch this disasterous dancefloor romance unfold and intervene. They surround me and I reluctantly join them for their old-fashioned dance off (dance off?! dance off?! dance off?!) Better stick together. 13. Woz Not Woz [Eric Prydz/Steve Angello] The trip to the cubicle is taking effect. More mashed potatoes, hun'? Yes, ma'am. Thankyouplease. That ukulele player is giving me the eye, but maybe I should just go have a seat in the bin and chat up the wall for a while... I crash onto a chair and chill out for a bit. 14. Stupidisco [Junior Jack] In slow-motion, Prince Charming emerges from the amyl-secented fog. As he smiles, you can actually -hear- the twinkle gleaming from his teeth. He gentlemanly offers me a bottle of water, and plops down next to me. "Hi, I'm Jonny..." I start. He turns and nods, "I know". We sit there, half-talking, half-chilling. "Haven't seen you around in a while…" he continues. Our knees touch and an electric spark goes from my toes to the ends of my bleach-blond doo. Baby, make your move. Step across the line. Touch me one more time. Come on, dare me... 15. Just Can't Get Enough vs Diamond Life [Shapeshifters] "Jonny, it was good seeing you." Dude, stay a while. Stay a while. "Naw, listen, mate, I really gotta go. But... what are you doing on Tuesday? Wanna grab some takeaway, watch some DVDs at my place?" 16. Lola's Theme/Hella Good [Shapeshifters/No Doubt] He looks back, just once, as he leaves. That cheeky grin creeps across his face again, and I hear the twinkle again. Heading to the bar, I hear this tune. This overplayed tune that I love to hate... it pulls me to the dancefloor where I find just 4 lost souls left—my friends, of course, they keep on dancing. I run up to them as the horns kick in, and one of them excaims "choooooooooon". We boogie till the lights come up, and as I leave, I know that I'm a different person, my world's been turned around.