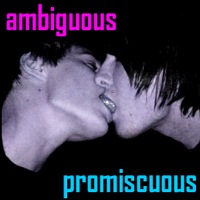 ambiguous promiscuous.

straight or gay? does it matter? everyone's a little bit bi, right?

boys who like girls who do boys like they're girls who do... mmm....

sexuality in 2006 is going through a renaissance, with people getting freaky in some freaky ways that really aren't considered "freaky" by most. and jonny bringins you a soundtrack to seduce, to lick, to suck, to bite, to date, to mate right along to.

a wild mix full of surprises, ambiguous promiscuous is one of jonny's most meandering mixes ever. like jonny tells the boys and girls he drags back to his bedroom: take a chance, step outside your comfort zone, and enjoy the ride....

we start with some credible gender-bending punk, bop through some neo-electro, smirk through some pop cheeze and bite into some raunchy erotic house before wiping off with some cool pop classics.



jet boy, jet girl [the damned]
boys keep swinging [david bowie]
strip [adam ant]
i like the boys [pleasure seekers]
i'm a slut [bis]
sex is personal [the faint]
gay boy [futon]
hollaback boy [cobra starship]
promiscuous [crossroads mix] [nelly furtado]
pictures [timo maas]
i know what girls like [young punx mix] [space cowboy]
sexy fuck [who's who]
find a new way to dance [young love]
dance i said [touche mix] [erick morillo feat p diddy]
sex secret [peter rauhofer reconstruction mix] [2 raum wohnung]
who's your daddy [david guetta mix] [benny benassi]
the price of one [rupaul]
boy [peter rauhofer mix] [book of love]
double decker supreme [gravy train!!!!]
tinted windows [pansy division]
cowboys are frequently secretly [fond of each other] [willie nelson]
no strings [lola]
jealousy [pet shop boys feat. robbie williams]